Alternative Motorcycle Transport Inc.
We have decades of experience shipping motorcycles. My reputation is one of integrity, commitment, and customer service. We ship motorcycles and passenger vehicles nationwide with close to 30 years experience. We have an excellent safety record, transporting vehicles in the safest manner available. We ship nationally using enclosed trailers. We will ship door to door and ensure that your motorcycle is secured in the most effective manner. Also you will never have to worry about time frame. Once our trucks are rolling you get your bike as soon as possible. We don't have layovers which means your vehicle is on the road only as long as is necessary to drive from Point A to Point B. Shipping in our trailers keeps your investment safe and clean from the elements, unlike many open car haulers. Let us exceed your expectations! Personalized transport for motorcycles & atvs.
We are a company devoted to providing the quickest & best motorcycle transport available. We pride ourselves in going from Point A to Point B in the quickest amount of time possible. If we tell you we will transport your motorcycle in 6 days it will be transported in 6 days. We also are more than willing to answer inquiries via phone at 954-245-9963 to update you on our whereabouts so you can make sure we are keeping perfect time. We also have insurance up to $1,000,000 in case the improbable or unlikely occurs.
Please see below our Motor Carrier Number & Department of Transportation Number:
We can't stress enough the importance of enclosed transportation of your motorcycles, atvs, etc. We've all seen motorcycles transported terribly; such as: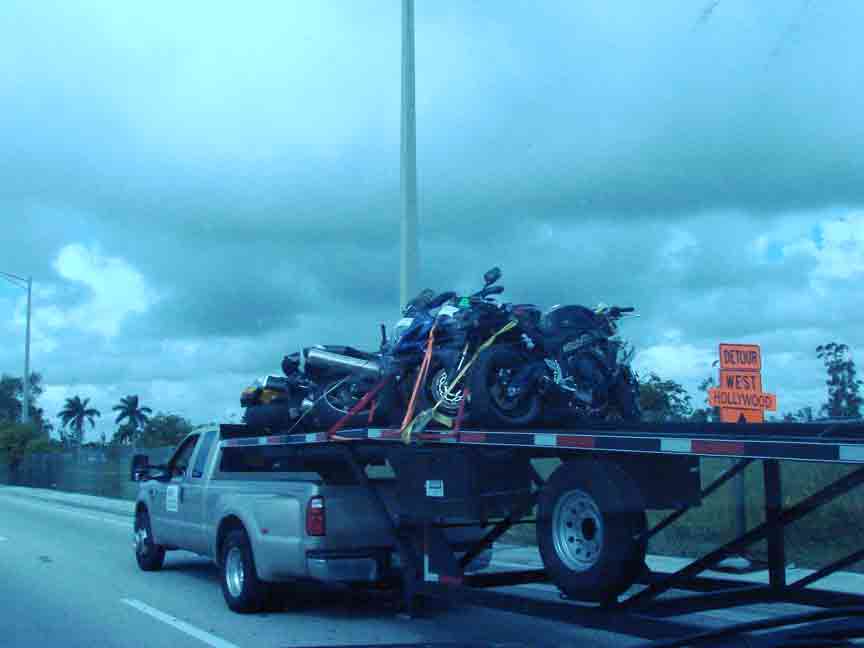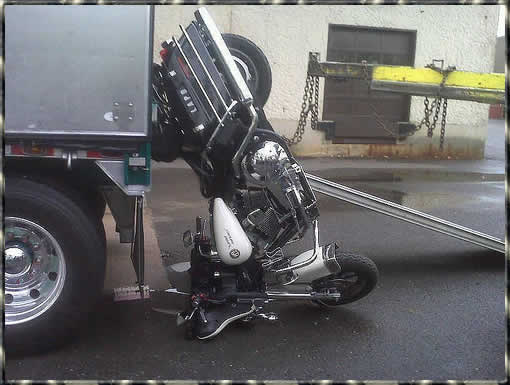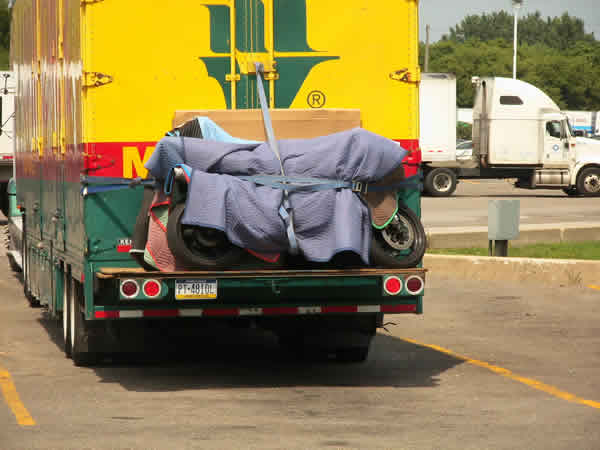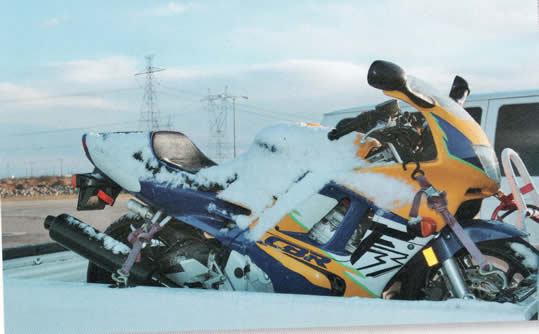 We're not going to insult your intelligence by transporting your motorcycle like that.
As you can tell we understand that you take great pride in your vehicle; so we take pride in getting to & from where it needs to go in the exact same condition it got to us.
Please call us at 954-245-9963 to inquire about us transporting your motorcycle, atv, etc. if anything is not clear here. We want our customers to be able to ask us anything; because we will answer it.